Any lover of documentary film has never been luckier than to call him or herself a New Yorker than right this instant.
On this rainy Father's day weekend, while the rest of the country lines up to see the latest DC Comic superhero blockbuster, my fellow residents of the Big Apple have access to the most stellar lineup of documentary films to grace the screen at the same time in I don't remember when.
For some reason, three of the most powerful and entertaining documentary films of 2013 are all released today in theaters in Manhattan!
Far Out Isn't Far Enough: The Tomi Ungerer Story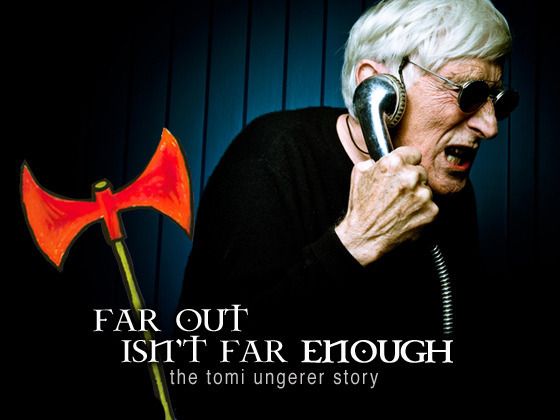 I saw this outstanding portrait of an artist at TIFF 2012 and was so moved that I
wrote a passionate review
saying these filmmakers were doing God's work. I loved being exposed to an artist I'd never heard of but whose work I knew by sight. But what was particularly remarkable in this film was that as nuanced, creative and unique as Tomi Ungerer is as a man, so was the approach the filmmakers took to telling his life story. That movie overflows with color and brilliance, in its subject and in the way it paints a picture, sometimes literally, of the fascinating life he leads. This was my favorite film of TIFF 2012, and the poster is one of three movie posters I hung on the walls of my new apartment.
Far Out Isn't Far Enough: The Tomi Ungerer Story is playing at Lincoln Plaza Cinemas and opens wider next weekend - here's where to find out when and if it is playing in your town.
20 Feet from Stardom
What was your dream? How close have you come to achieving it? How would you feel spending your whole life within spitting distance? Where does the line get drawn between failure and success but on a different plane? If you've ever wanted to be someone, or if you even just love music (okay so basically if you breathe air), you'll love this soaring, funny, and emotional documentary about back-up singers. The trailer, in attempt to sell tickets, shows the wide array of interview subjects - from Bette Midler to Bruce Springsteen - paying homage to the unsung (ha, get it) life of a back-up singer. But forget about those household names, because the real stars of this smashing documentary are the back-up singers themselves - the unstoppable Darlene Love, Merri Clayton, and Lisa Fischer, among others.
I saw this film on the opening night of Sundance and I knew about 30 minutes in that it would be the best documentary I'd seen this year. As the credits rolled, that was upgraded to one of the best documentaries I've ever seen. Six months later that no less of a true statement.
And before you assume it's simply an easy crowd pleaser because of the subject matter, think again. This film was gorgeously and meticulously made. I don't know too much about the technical aspects of making a movie, but even I started thinking to myself as I watched that I had never seen a documentary so brilliantly edited. I must have been right, because when the editor's name came up in the credits, the already voracious applause took a noticeable surge. This film is nearly flawless, if you ask me.
You can watch 20 Feet from Stardom in New York (Lincoln Center and LA (Landmark) now. What are you waiting for?
Call Me Kuchu
I've never been a big fan of the concept of a hero. I tend to believe it's a word thrown around too easily, especially in the media; used for emotional impact, overused to manipulate viewers to feel a certain way. That said, Call Me Kuchu is a devastating film that is a rare brave introduction to a real and true hero. I am talking about David Kato, the Ugandan gay rights activist who risked his life every day to not only be who he was, but to ultimately be proud of who he was. This film is tough at times, but it is much more than a tear jerker, and I truly hope it gets seen by a wide audience.